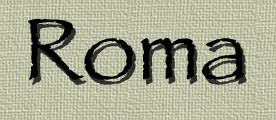 This summer my family went to Rome, and luckily
I had a digital camera to bring along for the ride.
Here are some selected pictures from Rome
Use the side directory to select the topic you want to see.
This page is recommended for a 832 by 624 display.
I have gotten better results with Netscape.
E-Mail me!
To see the computer this was created on go to:
http://homepages.together.net/~dotfour/Thank%20You.html
To See How Many People Have Been Here, Click On Me!

www.apple.com